"The level in which you achieve derives from the work you put in" 
Laila Alarbesh's life motto is the above statement and it is clearly reflected in everything she does. Many know SAS senior Laila Alarbesh for carrying the volleyball team as the senior captain with her immense skills and passion. However, there's much more to her than that.  
Did you know English isn't her first language? According to her, not a lot of people do. Growing up with a Belizean-Indian mom and an Arab dad, she grew up speaking Arabic and Belizean Creole before learning standard English.
Apart from a multitude of cultures, her parents also granted her a multitude of skills. Due to her parents encouraging her to try a variety of things, Laila has become a truly versatile individual. She is a talented artist whose hobbies include but are not limited to cooking and baking, sewing, drawing, and painting. 
With each, she displays a dedication unmatched by most. Her friend of 6 years, SAS senior Michelle Reyes, emphasizes this. "Laila is one of the most driven people I know," she said. 
Since the age of 2, Laila has been blessing canvases with her hyperrealistic style. "My family was always buying me art supplies as gifts as I always used to watch shows like Bob Ross and Wyland's Art Studio," said Laila. 
Her pieces, derived from her personal interests, are produced using the premium colored pencils Prismacolors for maximum detail. "The goal of my pieces is to make them look exact to what the vision is," she explained. Her favorite piece, a portrait of venom, is a perfect example of her skill as she described it is "the most detail I've ever put into a piece."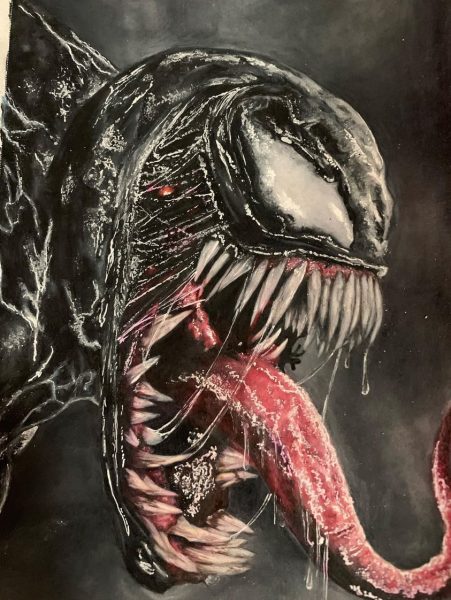 Her inspiration for art comes from the things she enjoys, which often tends to be the genres of action and horror as well as musical artists.
Her subjects are a reflection of her mind and passion, even ranging to world problems she cares for. One of her pieces, featuring a girl's body covered in handprints, is her friend Michelle's favorite. It "served as a commentary for how women are seen as objects that any and everyone has the right to touch," Michelle said.
Despite her art being fit for a professional, her process for making it is actually quite casual: "I freehand everything as I don't like making rough drafts." From there, she goes in with her Prismacolors – as she doesn't completely like to paint  – and creates a masterpiece.
However, she plans for creating art to remain just a fun hobby instead of a career. Instead of taking it to a professional level, she plans to implement it into her future occupation: a businesswoman. More specifically, the future owner of her father's business. The business produces concerts and events for a lot of major celebrities, so she plans to put her artistic skills to use and implement it into designing merch, advertisements, stage setups, and flyers. 
OOKA UAE, a business in Dubai, is partnered with her father, so she hopes to also play a role under that company to make handmade limited edition bleached/painted hoodies for various artists. 
Despite all these ambitions, her loyalty remains with volleyball, too. According to Michelle, it's "safe to say [volleyball] will be a lifetime hobby." 
As of now, Laila has received offers to play volleyball overseas in Italy and most recently for the University of North Carolina Asheville, a Division 1 school. However, her future career in international business management and her lifelong hobby are beginning to clash. "I really wanna play but not all colleges have the major I want," explained Laila. If the major of her choice works out, she'd graduate with 3 bachelor's degrees from 3 countries within the span of only 4 years. 
Regardless of how her future plays out, it is clear to many that her potential to thrive will only continue to grow. Michelle notes, "I see nothing but success in her future."