Workers strike for more than better pay
Students experienced the second strike of their time in LAUSD
April 21, 2023
More than 60,000 essential workers banded together to support the SEIU cause on March 21. 
"This strike was a preemptive strike to let the superintendent know the power of the people. It's really important because for years essential workers have been at the bottom of the barrel," said Jsane Tyler, director of the parent and family center.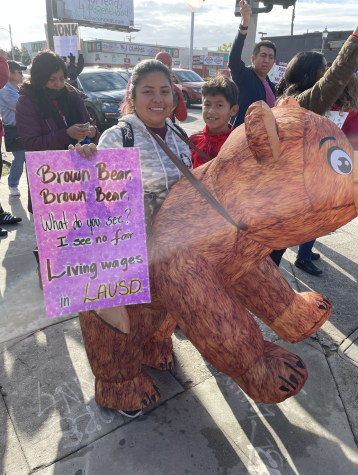 Tyler has been working as a director at Hamilton for 8 years while having an overall experience in her job for a magnitude of 15 years. Despite this, Ms. Tyler feels similarly, even being in the middle of the ranks. "If I didn't have a second source of income, the amount I get paid does not even cover my rent and my rent is not high and this is my primary job," Ms. Tyler said.
The Service Employees International Union represents over 30,000 LAUSD workers ranging from custodial staff to cafeteria workers. On March 21, the union hosted a 3-day strike with the support of United Teachers of Los Angeles. Much confusion was expressed by parents and students regarding the establishment of an end date since the 2019 strike was for an indefinite amount of time. However, the SEIU strike was an unfair labor practice strike, whichby law can only be mandated for the duration of 3 days.
Essential workers make a median of $25,000 a year. According to a study by financial planner LA, the comfortable wage for a resident in Los Angeles without children is $76,710.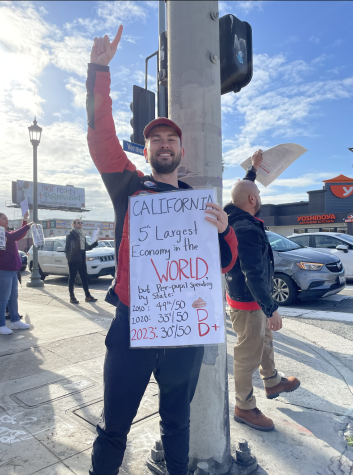 "They work to feed us but can barely afford to feed themselves, it's unfair," stated Vallerie Gutierrez, an 11th-grade student at Hamilton. 
"We just want to be able to live semi-comfortably, especially in this economy," stated a custodian on Hamilton's campus who did not want to be identified by name.
Tyler said that the strike was an ultimate success not only in LAUSD history but overall in U.S. history, adding, "Nowhere has there ever been 30% raise full benefits just to help us. People reminded Carvalho, these folks were called essential workers for a reason." 
Though many debates arose over the strike, it was extremely difficult for the participants.
"I did a whole week of breathing drugs. People think it's not labor on your bodies but you're shouting while it is pouring rain," said Ms. Tyler.
In addition to the lack of pay for these essential workers, Tyler also credits the reasoning behind the strike as Superintendent Carvalho's lack of security when the cyberattack hit in September of 2022. The cyberattack forced roughly 600,000 students and staff in the nation's second-largest district to reset their passwords. LAUSD stated there was a lack of evidence of attackers securing personal information such as payrolls, social information, etc. Though there may be no evidence this information was accessed doesn't mean it did not happen. The lack of reassurance then contributed to the long-overdue strike for an increase in pay, Ms. Tyler said.
"Carvalho had no idea the power we have. Unlivable wages and our area leaders had no idea if their information was still out there. It was just about time we represent the power of the people,"  Tyler said. 
Overall, Tyler is just one person of the thousand essential workers that allow schools to run smoothly, even prior to the raise, as Tyler states, " Not everyone has time to take care of their kids which I understand, but I think the people that help with it, should at least be taken care of financially and I am glad Carvalho yielded."