Within today's music industry, the competitive and selective nature of the business has left Asian artists unrecognized time after time. However, two award-winning Asian artists are rising above this and consequently taking over the media and the hearts of teenagers globally. Laufey and Olivia Rodrigo, both entirely different in terms of genre but incredibly influential, have solidified their spot amongst the top rising stars with their newest albums GUTS and Bewitched, both released September 8th, 2023. 
Laufey [Lay-Vay] Lín Jónsdóttir, better known by her artist name Laufey, is not new to the music industry. While she first gained international fame through her TikTok viral song "Valentine," this Icelandic-Chinese singer's career actually began writing songs in her dorm at Berklee College of Music, performing for small crowds whenever she had the chance.
Her debut single "Street by Street" reached Icelandic Radio's #1 spot on the top charts before her popularity reached the United States. However, now that it has, people cannot get enough of her or her new album, progressing the classic-jazz pop music scene. AMPA senior Jasmine Lopez says, "I've always loved jazz, and being able to find a modern artist who incorporates jazz into their music is something I really enjoy. Her music is so soothing. It makes me feel like I'm in a fantasy world."
Bewitched, fitting to her signature dreamy and orchestral theme, follows the overwhelming emotions of falling in love and the heartbreak that comes with it, captured with her beautiful lyricism and various instrumental talents. The songs are an escape to an angelic world of bliss and also sorrow, a contradiction that is intentional. "I always strive to make timeless, almost a bit cinematic music, because I guess I was looking for an escape and I found that through music," Laufey told Forbes magazine.
Olivia Rodrigo, on the other hand, found her start starring in the 2016 Disney show Bizaardvark, however, her music career first gained attention from her High School Musical: The Series hit "All I Want." Now, 3 years later, she's a Grammy-winning artist with 59.3 Million monthly listeners on Spotify and her newest album GUTS, similar to Sour, is taking the world by storm. 
This bold star, synonymous with the color purple and teenage stereotype, has become a symbol of "teenage angst and melodrama" with her pop-punk and alternative style. Her newest album follows suit with the confused, bitter, and melancholic feelings associated with growing up. "A lot of this album is about the confusion that comes with becoming a young adult and figuring out your place in this world," Rodrigo told Apple Music. 
The feelings of her album have definitely resonated with her audience. "I love listening to Olivia Rodrigo because she writes music about her personal experience with relationships and life," AMPA Sophomore Opelia Lanag commented. "Since Olivia was born in the same generation as teenagers today, so many people relate to her experience."
But apart from the impact both have had on the music industry and on teenagers, they have specifically affected the Asian community in a positive way, giving the community the representation they have been deprived of in the mainstream media for years. 
Being half Chinese and half Icelandic, Laufey has recognized this impact in an interview with Elle, "I have a lot of Asian fans, and it's clear that there was something missing in pop culture and in pop music for Asian kids, someone to look up to. I always say I became the musician that I wanted and needed."
In her new album, Bewitched, Laufey even talks about the struggle of growing up Asian in a rather predominantly white environment. In the song "Letter To My 13 Year Old Self," she addresses her younger self, singing that her peers, "Try to say your foreign name and laugh. I know you feel so loud, so different from the crowd of big blue eyes and long, blonde hair."
Additionally Olivia Rodrigo, as a Filipina-American, has also been open about her acknowledgment of the representation she upholds for her Asian audience. In an interview with People, she related with fans who felt like they didn't have much representation before her success, "Like just thinking about it. I feel like I grew up never seeing that. Also, it was always like, "'Pop star,' that's a white girl." Rodrigo expressed her gratitude for this opportunity in the same interview, "I'm so glad that I can hopefully be an example for a little Asian girl out there, that they can do anything that they set their mind to."
Recently, both artists have also had pop-up events throughout LA which were extremely successful. Last Sunday, Laufey had a "Laufey Day," an itinerary directing fans to visit multiple locations around LA to complete fun activities related to the album and purchase merchandise. The day culminated with a special live performance of the album by Laufey herself at Pan Pacific Park.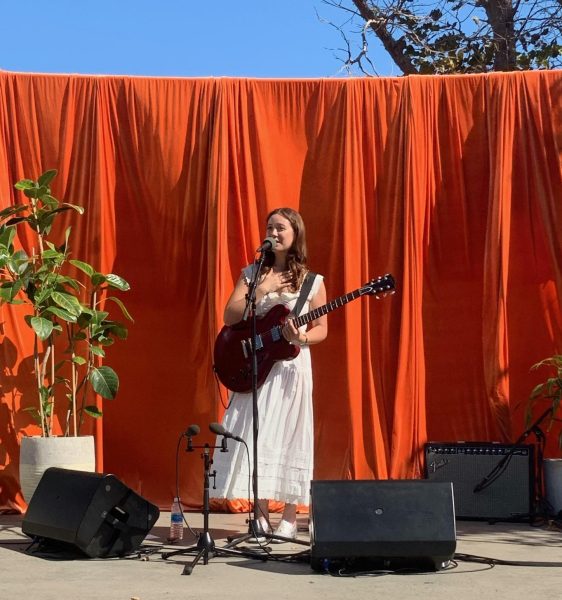 For Olivia, while her main album release event, the "GUTS pop-up", was located in New York, she still had several events planned for LA fans. On Friday morning at a local Target, Rodrigo hosted a virtual meet and greet with fans and sold signed merchandise. Additionally, a collaboration with Jeni's Ice Cream from last Friday through Sunday allowed fans to purchase purple cones and purple ice cream while attending a listening party for the album.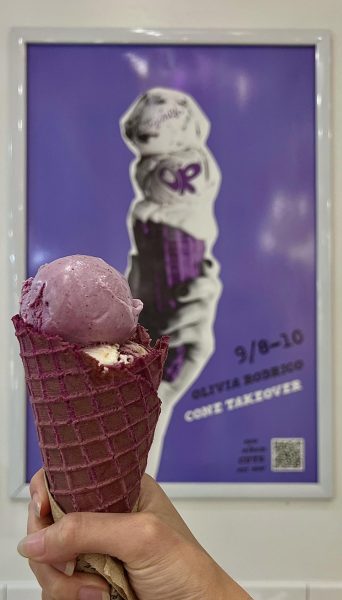 Needless to say, it is evident that Laufey and Olivia Rodrigo are both incredible musicians who are helping pave the way for future Asian artists in the industry, inspiring their young fans around the world.