The usage of phones in school is a topic that has proved rather controversial. I know most teachers disapprove of phones in school and especially in class, but on the other hand, most students will say they need their phones. While there's many different benefits in banning phones, there's also problems with banning them in some situations. We need to find a middle way.
I think teachers should decide on their own phone use classroom policies. Many teachers have conflicting points of view on phones, so this can work. With this rule, teachers have more power than ever and can control a class properly. If teachers choose to ban phones in their classrooms, then this would allow students to stay focused on their assignments rather than their phones. This will definitely help the students and the teacher—it's basically a win for both sides. For the teachers who choose to allow students to use their phones, then that's on them. If the teacher can trust the students to be on their phones at the right time, then that's a plus.
Many argue that phones should be allowed during school emergencies. This is true, but only in a few cases. If any student is feeling sick during class, then the teacher should excuse the student to go outside and call their parents. Not only that, if a student receives a call from their family or someone who takes care of them, teachers should also allow them to answer. However, if there is a real threat on campus, I suggest that the students must be quiet and not call their parents, but make one person call the police, so that the front of the school doesn't become a hodgepodge of cars.
Even if phones were banned, students should be allowed to use their phones during breaks. I think this is a good way to let students check their phones for a good while instead of waiting a total of 8 hours to check at the end of the day. There's no harm in using your phone outside of class.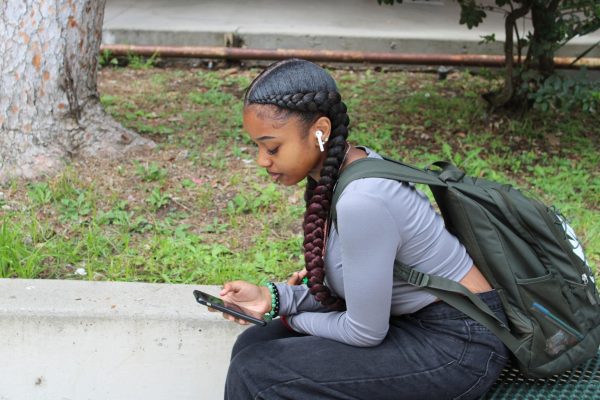 If school districts in the future plan to ban phones, then I suggest they ask the parents first. A simple way to get parents' permission is to conduct a survey. The school should then use the data to see if parents agree or not. There's no harm in good old-fashioned democracy. A phone ban without their permission could have major consequences. Parents would be worried about their kids all day. I can see parents rioting at the school to make a change, which could ruin a school's reputation. It could also make students riot. If both of these happen, then students would lose learning time.
I really think that these ideas are the key to get everyone together. The idea of banning phones is getting bigger every single year and many should be informed before it's too late. I want everyone to agree on what's right and wrong so that school campuses can be in peace.