Hami's Latinx sanctuary
December 6, 2022
"How is it that we make up almost 50% of the population in Los Angeles, yet have almost the least representation?" Alpha Briones, a cabinet member of La.S.O, asked in frustration in response to the latest scandal regarding Nury Martinez's racist remarks against African Americans and Oaxacans. 
The election of Martinez was empowering for Latinos due to lack of representation in politics. However, her recent actions only disappointed the community. Briones' question represents the impetus for La.S.O.'s beginning. 
La.S.O. is a cultural club that began due to the underlying need for representation for one of the largest student populations on the Hamilton campus. In the context of Latino underrepresentation, Mr. Ramos (now retired) along with a group of students, established the longstanding club, creating a safe space for students and allowing for the enlightenment of cultural practices through engaging hands-on activities.
La.S.O.'s establishment quickly attracted attention. The need for more sponsors also increased, ultimately resulting in 4 major sponsors: Ms. Morales, Mr. Estrada, Mr. Vasquez, and Ms. Olmos. "All Latinos are united through language and are able to share our culture," Ms. Morales, a sponsor since 2017, states. Morales collaborates with cabinet members to create activities for their weekly meetings that take place every Thursday during lunch and helps plan assemblies for the school.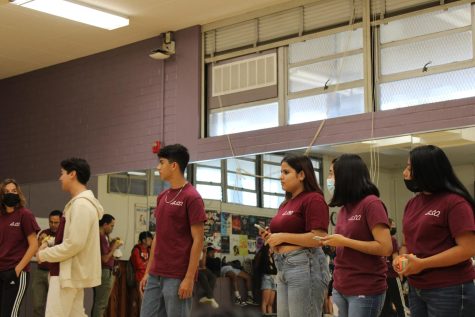 Morales adores the fact that La.S.O. continues to share the Latino culture through events she deeply cherishes. "Over the years, La.S.O. has had some incredible events, all of them are my favorites. Every single event is special," said Morales.
La.S.O. created these events to help expand and share culture as well as unite the Latino community. Being the sponsor for 5 years now, Ms. Morales believes that one way  La.S.O. can expand is by collaborating with other clubs here at Hamilton. "We will be able to share our culture throughout the whole school!"
Mr. Estrada, a sponsor of 7 years, mentions how many students join La.S.O. in hopes of learning more about their traditions and cultures. "Many Latino students can feel disconnected with our heritage especially in the west side where Latino representation is lacking compared to places such as the east side of Los Angeles." 
Not only does La.S.O. benefit Hamilton by providing unity, but it builds connections and strengthens the multicultural scene at our school. This effect is not only expressed by sponsors but students as well.
La.S.O. has allowed for the creation of long-lasting friendships, encouraging students to interact with others that have shared similarities and generated more comfortability in students. 
Diego Olivares is a 12th grader in AMPA. Olivares is this year's president. However, gaining this position took great skill. Olivares only recently began his education in the United States 3 years ago. However, Olivares was determined to conquer the challenge of learning a new language in a completely different atmosphere. He credits his community for the amount of support he has received. "At first, I wasn't able to communicate, but little by little and with support of my teachers and my classmates, it was easier. Joining La.S.O. was impactful because sponsors and cabinet made the transition easier, I felt welcome and understood."
La.S.O. continues to inspire students to step out of their comfort zones. 
Anna Hernandez, an 11th grader in AMPA, is the press secretary for the La.S.O club here at Hamilton High School. At first, Hernandez was fearful of the idea of being part of the cabinet. However, the community drove her to further contribute to the impact La.S.O. has on student-life. "I think it's a good opportunity to connect with other people," stated Hernandez.
The experience allowed Hernandez to learn important life skills that are critical in real-world situations. "Communication is really important," Hernandez states. After being part of  La.S.O., Hernandez has grown an appreciation for this club. She enjoys that La.S.O. is able to inform other students about different Hispanic cultures and gets to meet new people. In Anna's own words,  "La.S.O is all about being strong, leadership skills, and learning about new cultures."
Alpha Briones, 12th grader at Hamilton, joined La.S.O primarily for the intention of contributing as a member but fell in love with the club. She first heard of the club during club rush in 2021 and joined in the beginning of her junior year. She was recommended to join by her Spanish teacher, Mr. Estrada.
After joining La.S.O. she fell for the club and even participated in last year's assembly, singing cultural songs varying from cumbia to salsa to pop. This year she had different plans though, she ran and successfully earned a position on the cabinet as director of this year's La.S.O. assembly. Briones stated she was scared when running for the position due to the fact that there was a large pool of potential candidates. Although, Briones' perseverance earned her the role of this year's director. Briones states ,"I want to help out the cabinet, promote our club, work with members diligently and prepare for an amazing show this March." Though, Briones admits being one of the main faces of La.S.O this year can be pressuring. However, Briones feels that her experience as a performer and public speaker will get her through.
In addition to the support this club provides for students, the club also focuses on informing students of what is going on within their community. La.S.O. frequently utilizes hands-on activities to inform students while guaranteeing the prioritizing of student voice. On October 20, 2022, the club held an open-meeting for a post-it note activity in which members responded to questions regarding experiences with racism and microaggressions. Many students were able to share these experiences and recognize the  struggles the community faces. This activity enhanced the sense of unity and amount of empathy for one another.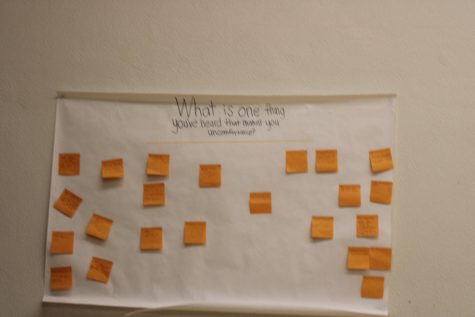 The effect La.S.O has continues beyond sponsors and cabinet members as Sary Rodriguez, a member for two years now, reflects: "Being in La.S.O helps me talk to and meet new people and it kind of made it known that my issues aren't just my issues, like they affect other people too and it helped me realize I'm not alone." 
In summary, La.S.O has a tremendous impact on students at Hamilton High School. The club allows for  many students to connect with one another over common interests while increasing the sense of ethnic pride both individually and as a community. In the words of Alpha Briones,"Join us for a meeting! Be engaged and active, don't be afraid to ask questions and have fun of course!"