Clubs galore: The enrichment and entertainment of Hamilton students
In the months following our semester club rush, a plethora of clubs have come out of the woodwork to show our school's diverse nature. Clubs explore everything from the governance of the school, to intrigue brought by international cultures, to the human nature of dissenting opinions, to the competitive nature of E-sports. As unrelated as they may be, all of these clubs are representative of the myriad different interests you'll find among Hamilton's student body. Some clubs are more recently formed while others are legacy clubs that have been around long before us and will continue to operate long after we leave.
If it was unclear, the aforementioned governing student body is ASB. Hamilton's Associated Student Body tugs on the strings from behind the curtain at all the school-run events you may have attended during your tenure at Hamilton High School, from publicly available sporting events like football games to a more formal bash like homecoming or prom. Clubs fall under six categories at this school and ASB is at the forefront of the leadership category.
ASB attracts people with ambition, people like President Isabella Lopez who went through a long process that included a stint as junior class president on top of having to write multiple essays so she could have the honor of being the architect of  "all these changes and make a better community at school and create a safer school culture," Lopez said.
Leadership isn't all that Hamilton has to offer. Clubs such as the French Club serve as a gateway to cultures most students wouldn't get to experience. It also allows sense of familiarity for any students previously accustomed to French culture. 
Club President Deborah Kabongo seems determined to make the French Club the best version it can be. Under her presidency she has made running it easier on her and her constituents by shifting the meetings from weekly to every-other-weekly. This strategy "gives me time to think about what I should do next meeting." She is determined to continue the club's pattern of "doing fun stuff…cookies, bringing snacks, talking more about French culture and also play games." Kabongo is very proud of where the club currently stands as a safe space where people can have fun and learn about French culture.
Other clubs have a more formal structure. Debate is a concept as old as humanity itself. For as long as there have been humans with opinions, those opinions have been scrutinized. Obviously a club that's mission statement is "We like debate and if you like debate you should join debate club too" (as Vice President Ciel Choi puts it) can't just aimlessly argue during lunch all year.
This is where the structure provided by an outside organization comes into play. They provide the topics, evidence and infrastructure to compete with other schools. This semester their debate focus is on NATO and artificial intelligence. They have to do extensive research, which Choi says brought out passions they had no idea they had. Despite it being comparable to a sport with meets and with winners and losers, Choi maintains that the overall purpose of debate as both a concept and as a club is "more about having a broader discussion."
Some clubs are passion projects from alumni. The E-sports club is a prime example of this phenomenon. "Gaming was always one of my passions and after I graduated I saw a way to bring E-sports as an actual curriculum to the students," said Coach Guama. One of Hamilton's biggest clubs, the E-sports team that began in early 2021 has a staggering 100 E-athletes across the school's 12 teams.
It's clear that coach Guama cares for his athletes. He spends a lot of time lobbying with BITA for more funding for better equipment in higher quantities to provide E-sports with the infrastructure needed to support the large group of kids. "It's been slow, there's been a lot of hiccups…it's not as easy as writing a check to a company," Guama said. With that being said, the win record is looking pretty good. Guama made it clear he has nothing but confidence in his players when he said, "It's basically a done deal, we're just waiting to get to the finish line. I only see us on that number one spot."
Staff writers Javier Salazar, Angel Hernandez, Giovanni Herrera, and Nicholas Mesko contributed to the research for this article.
Leave a Comment
About the Writer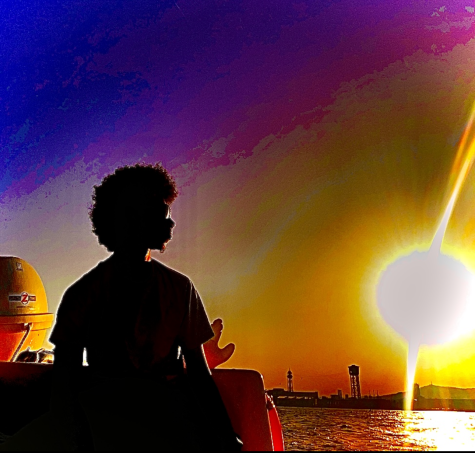 Marley Herndon, Opinion Editor
Marley Herndon is the opinion editor for The Federalist. He is a senior in AMPA at Alexander Hamilton Senior High. Marley covers whatever he deems interesting...