"Our Hami's Got Talent": Students shine at talent show
February 3, 2023
Now that AMPA has had its first show of the year, it's easy to conclude that 2023 will be a great year for the talented individuals we have here at Hamilton! As described by the two highly energetic and enjoyable hosts Dionne Lacking and Siyana Da'briel, "It's our Hami's Got Talent." 
These talent shows are a rare event. This is only the second talent show in Mr. Turner's 16 years of working here at Hamilton, making it even more of a privilege to be able to witness it as our first event of the new year. "I've always been impressed by the amount of talent at this school, but many students don't get to display their talents," explained Mr. Turner, who appreciates the show acknowledging those outside of AMPA who regularly perform in plays and events. 
The show had more than traditional talent; dancing and singing were big parts of the show. However, the inclusion of poetry and cultural pieces made the show stand out. Each performer brought something new to the table, which was echoed by Ms. Hurst, one out of the five judges (who also included Joseph Burney, Mr. Tolson, Lolade Oyenuga, and Chelsea Smith).
 "My favorite part was just seeing the different categories and talents," Hurst said. She added that she particularly loved two participants: George Gomez, a guitar player and singer and Joanna Grijalva, a folklorico dancer. "I felt it represented those who are not able to show their talent at times because of their SLC." 
Hurst declares she'd be happy to do it again, the only thing she wishes to change is to separate the talents into different shows. "A poetry piece shouldn't go against a dance. It's a different realm."
Favoritism and bias was avoided in deciding the winners, as the method remained fair. Judges decided through a scoring sheet containing multiple categories such as creativity, technicality, costume, and more. The score of each participant was then averaged. The finals scores were close calls, considering the winners were only separated by half points, leaving the contestants tight.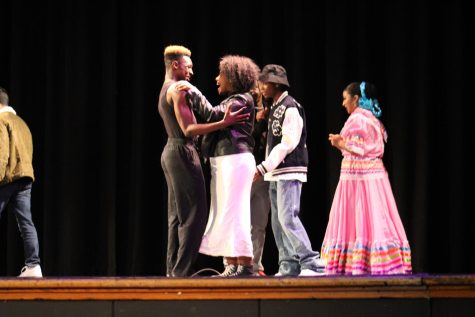 Ultimately, the three winners were Christopher Devant in 1st place for his dancing, Asenath Alexander and Jazmine Gibson in 2nd place for their dancing as well, and Kamal — in 3rd for his rapping. 
Kamal pushed himself to participate because of his abundance of faith and belief in himself and his ability. "I had to realize that they're people just like me breathing in the same air just like me and when i'm on stage they are in my domain so when you realize that the audience is on your side, there's nothing to fear." 
Hurst hopes annual talent shows become a Hamilton tradition, improving as they gain more participation. Fortunately, this is part of the plan. BSU aims to eventually have a talent show for both the fall and spring semester as long as they get passionate participants to help them along the way both by auditioning and by actually taking part in the set-up. This year that person was Erin Fouther according to Mr. Turner who regards her as "the one behind putting it all together." Mr. Turner, however, cannot rely on her dedication much longer. "She's gonna graduate soon. Someone needs to have that amount of passion she did."