The life of Hamilton's senior cross country & track athlete Lucy Valencia
"I believe what makes a good runner is the ability to try and push yourself" -Lucy Valencia
How she started and her goals for running in the future
Lucy, voted the most athletic Hamilton High student of 2023 by the senior class, is currently in her last year of high school in the Winds major in AMPA. Lucy originally wanted to take up yoga but found herself trying out for cross country, because her brother used to in high school. She ended up staying because she fell in love with the sport. She stated that she will continue running with no end in sight. "I definitely want to run after college, sticking with competing and end up being one of those tryhards at a local 5k," Lucy said.
 Info on her sport in cross country & track
As you can tell, Lucy is a very dedicated, athletic person. She states, " Running is mental." In the way she talks about it, you can see she keeps herself very motivated, putting in the effort 24/7, saying to be an overall good runner you have to, "strive to push yourself and to want to improve." Her longest run in the summer of her junior year "was a total of 10 miles at Big Bear." She and her teammates ran a 2.5-mile trail back and forth multiple times. Then they ran an additional 3 miles that night.
 Lucy Valencia's recommendations & tips on running
Lucy was a soccer player before becoming a runner, sharing that all of her running clothes are her soccer clothes. For runners interested in good shoes, she recommends "these new ones that I got this year: they're Saucony Endorphin Speed and they're really nice." Her opinion on shoes for long distance is, "If people want to get into running you just have to have decent shoes, but definitely not flat shoes because you'll get injured!"
When training for cross country, she did lots of hill workouts and long runs to build endurance, and for the track, she did short speed repeats. "I think my favorite kind of workout is 300's, which is 3 quarters of the track," she said. "You're pushing yourself and still need the endurance to keep steady but you're also going fast and it's fun to feel like how fast you're going."
Getting To know Lucy Valencia
Lucy's go-to race snack is something light like a power crunch vanilla bar. For lunch, she likes plain pasta with just olive oil, and for breakfast, a plain bagel with butter on it and water, because it's easier to digest when the nerves get high before a race.
In races, she prefers to tackle the hard uphill in the beginning. "Definitely start with the uphill and end on the downhill, omg the uphill is just brutal," she said. She also prefers running a 5k to running a marathon. "I'm definitely more of a short distance runner who prefers going faster than keeping a slower pace for a longer time," Lucy said.
Getting To know Lucy Valencia through A teammate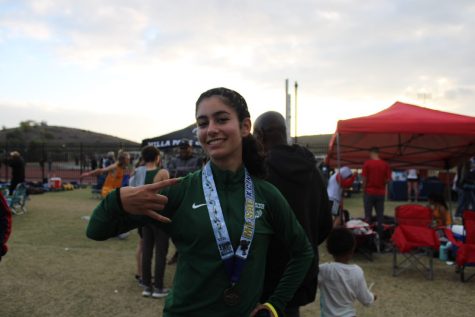 Maria Cruz Santiago, Lucy's teammate and a sophomore at Hami, has known Lucy since her freshman year. Lucy "has always been known and seen as a super athletic person," Maria said. "Others on the team see her that way as well. She's the person who strives in anything she does, either as as a teammate or friend, she's overall an overachiever." 
Maria said that as the team captain, Lucy keeps the team focused.
"Lucy's mindset always seems tuned into her practices, getting in the zone and sort of enters her own mental space," she said. "It seems as if Lucy gets in her headspace, only having running and finishing the race on her mind, nothing else."
Leave a Comment
About the Contributor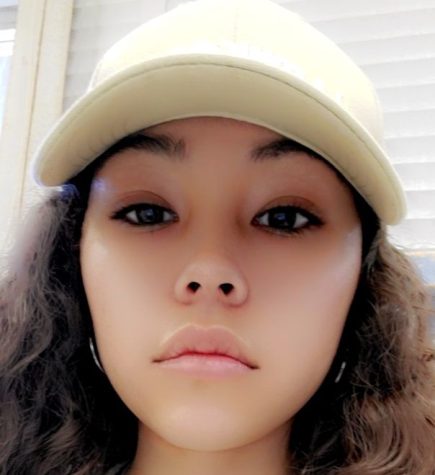 Jessica Maldonado
Jessica Maldonado is a staff member on The Federalist. She is a senior in B.I.T at Alexander Hamilton Senior High. Jessica covers the culture beat, covering...