The Hamilton soccer season is coming, so get ready for a season full of great games, great stories, and great players to step up and show off their talents. The Hamilton boys' soccer team is holding tryouts the first 3 weeks of October to get them ready for the upcoming season. Last season, the Yankees managed to get second place in the league and make it all the way to the quarterfinals of the CIF championship. This season is full of bright new players ready to step on the field and win games.
The first week of tryouts is what they call conditioning week, where they test every player's physical and mental endurance to see if they are able to maintain a varsity team level of performance. The second week of tryouts is when the games begin and players are forced to give it their all in hopes of making the final cut. From sprints to jogs to jumps to ball control, the coaches are dedicated to building a strong team of talented players. The team went out to Birmingham in quarterfinals last year in a devastating loss, and they want to redeem themselves  this season.
One of the coaches, Christian Castro, was a former Hamilton player back in 2017 and is now a part of the coaching staff. It appears that the coaches are dedicated to creating a competitive and capable team this year by combining physical training with the wisdom of a former player turned coach. He works hard to motivate his team, stating that,  "Good players inspire themselves, great players inspire others."
Coach Juan Castro is the father of Coach Christian and trains a semi pro team outside of school, so he is wise to how the game works. He wishes to build a strong team and says, "We want to build a culture that will last when we are gone, so the next generation can continue the legacy we built. A total of 80 kids are trying out this season but only 40 will be selected, with 20 being on the varsity team and 20 being on the junior varsity team." These are lower numbers than last year's team, which the coaching staff said was because they were serious about building a stronger team by holding players to higher expectations.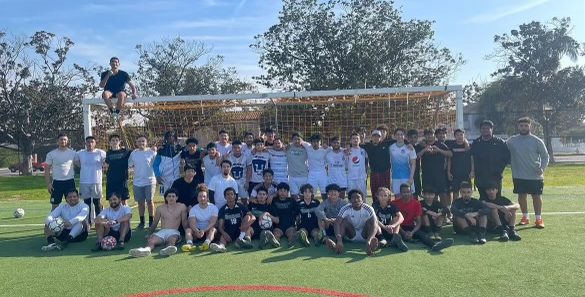 With the new season coming up, will the Hamilton soccer team bring home the championship they strive for? Will they step up and show the other schools that Hamilton isn't a school to mess with?
Coach Sarah Castro, Coach Christian's mother and Coach Juan's wife, said if the team puts in the work, they can accomplish great things.
"Hard work, discipline, and commitment [are] all it takes and championships come and go," Coach Sarah said. "No cheat codes to success, only work."
The author was on the junior varsity boys' soccer team last year and is currently participating in tryouts.